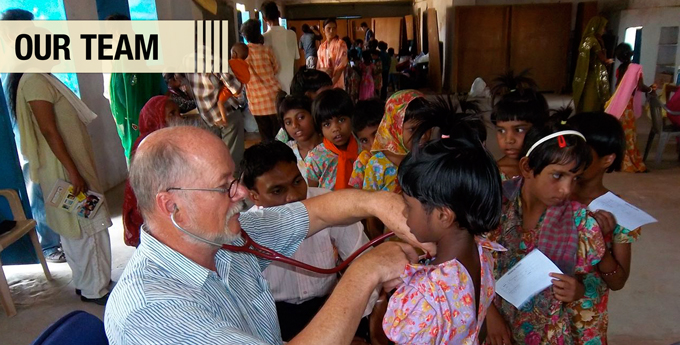 Micah Smith


Micah Smith is the founder and president of Global Gateway Network. He brings a global perspective of influencing men, and his great passion and gifting are being used to impart vision, to disciple, and to send people around the world to impact suffering people in the 10/40 Window in the name of Christ. Micah and his wife Nancy have been married for thirty-eight years and have five children and seven grandchildren. Micah is an ordained minister with the Northwest Ministry Network of the ...

more
Rodger Carter


Rodger Carter is a retired Air Force Lieutenant Colonel who spent more than 30 years on active duty specializing in security. He earned a Bachelor of Science degree in Criminology from the University of Tampa and a Master of Arts degree in Business Management from Webster University. Rodger has served as Men's Ministry leader and ministry elder and his wife, Sandra, has served as Women's Ministry leader. They have an adult daughter with autism and have founded ministries ...

more

Joanne Erickson


Joanne Erickson has been involved in ministry since she began teaching a class in her local church at 14 years old. She has been active for many years in community service, local outreach, and world missions, including a five-year term as director of missions for her church. She and her husband, Marv, have traveled to 47 countries visiting government officials, missionaries, orphanages, and schools, encouraging believers and assessing needs. She has served faithfully in her church ...

more

Dicky & Kathy Hartman


Dicky and Kathy Hartman own and operate Rock Tank Cattle Ranch Northeast of El Capitan Mountain in New Mexico. Raised on a cotton and peanut farm near Plains, TX, he learned farming from his dad and purchased his first cattle herd in high school. Along with serving as a local church board member for many years, the Hartmans helped plant a church in Oklahoma. Presently the Hartmans serve with Christ's Church in Roswell, New Mexico.

Carol Libby


Carol Libby has had a ministry in financial administration at various non-profit organizations for the last 30 years. She has served as treasurer of GGN since 2007. Her passion is to assist and help facilitate the various missions projects of GGN around the world. Carol has been on several missions-related trips.

Greg Smith


Greg Smith and his wife, Vonda, own and operate several successful businesses in the Tri-Cities, Washington area. Greg has also had a wide-ranging music ministry, serving as a worship pastor and performing vocally at community events. He has been involved in missions trips to Vietnam, Thailand, and Israel.

George Midbust


George Midbust was born and raised in Eugene, Oregon and attended Oregon State University. George works for ConAgra Foods Lamb Weston as the director of quality. His position involves a fair amount of traveling to manufacturing facilities, and interacting with customers. George and his wife, Wendy, along with their children, Kevin and Sara, have been on several missions trips for GGN, and desire to make a difference for Christ's kingdom "wherever we can."
Tom Hall


Tom Hall has played an active role in outreach ministries and in his local church for the past 36 years. For 10 years he served in a prison ministry, visiting inmates and holding Sunday services and weekly Bible studies. Professionally, Tom has been an engineer for 38 years, and currently provides computer support for church groups. He and his wife, Becky, have led small groups in their home, encouraging and enjoying fellowship with other believers. Since 2000 he has joined five GGN ...

more

Bill Henshaw


Bill Henshaw serves as Southeast Asia representative for Global Gateway Network. He and his wife, Tammy, have been married for over 25 years. Currently, Bill is the lead pastor at Bridgeway Assembly in Bonners Ferry, Idaho . Bill and Tammy have been involved in global missions in the Middle East and Southeast Asia. He is a graduate of Lee University in Cleveland, Tennessee.

Larry Libby


Larry Libby, married to Carol Libby, has worked in Christian media for over 35 years. He is now a freelance writer and editor working with Christian authors and publishers.

Linda Minaker


Linda Minaker has a passion for graphics and enjoys using her talents to help not only her local church, but other outreach ministries as well with visual media. She worked for 18 years as an administrative assistant at her local church and currently is employed as a project analyst supporting the Department of Energy.
Dr. Lorna Schumann


Dr. Lorna Schumann, PhD, FAANP, ARNP leads GGN's medical teams. Dr. Schumann is an associate professor at the Washington State University Intercollegiate College of Nursing. She serves as co-director for the Family Nurse Practitioner program in Spokane, Washington, also as a consultant for the International Council of Nurses. To promote international medical practice, research, and serve those in need in developing countries, she takes students on medical mission trips. Teams have ...

more

Dr. Karl Ludwig Tracht


Dr. Karl Ludwig Tracht is an important member of GGN's medical team. A graduate of the Universities of Marburg and Hamburg Medical School and specializing in pediatrics, Dr. Tracht has served with GGN since 2005. He continued his medical studies at the University of Heidelberg for Developing Countries, with an emphasis on tropical medicine at University Of Tuebingen. In addition to his pediatric clinic in Lemgo, Germany, Dr. Tracht has served extensively in Nepal (1977-1980) as ...

more