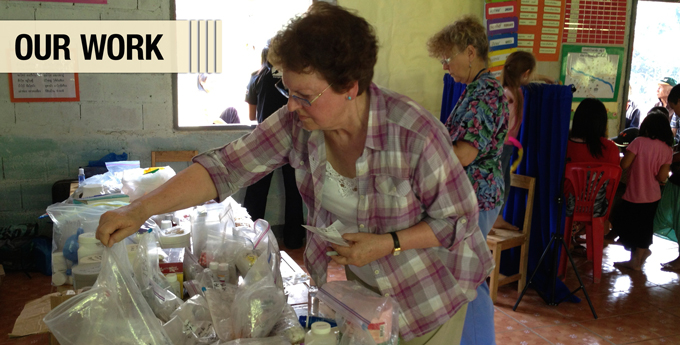 Serving indigenous people in North Africa, the Middle East, India, and Southeast Asia, we identify the basic needs of people in crisis then connect the expertise and gifts of team members to meet those needs. Below are some examples of how GGN is making life better for the most needy in our world both now and forever.

MEDICAL CARE
Medical teams travel to the most remote areas of the world, paying their own expenses and providing medical treatment to those in need. Medical care consists of medical exams and the disbursement of medications, dental care, oral hygiene education, nutritional education, and vision care. Our teams have treated thousands of adults and children in Vietnam, Thailand, Burma and Egypt. The donated medical supplies used by GGN teams have an estimated new cost value of four million dollars. Click here to watch videos of our medical team in action.
THE GIFT OF SIGHT
Do you have or can you collect donated eyeglasses? Our teams have watched many smiles on the faces of people that have benefited from good condition, previously used or unused reading and prescription glasses. If you would like to donate eyeglasses, please click here and we'll send you an email with details on how to box them up and send them to us.
FRESH, CLEAN WATER
Approximately 3.5 million people–mainly children–die every year from water-related diseases and 780 million people don't even have access to clean water. With intentional focus, GGN is working hard to help lower these statistics. In doing so, we have discovered that clean water gives us a voice in sharing the living water of Jesus. Some of the projects we are involved in include designing a clean water system in the Sahara, installing a reverse osmosis purifier on the border of Vietnam and China, and drilling fresh water wells in India. All of these projects have made an immense impact for men, women, and children who now have access to clean, life-giving water and no longer have to worry about hook worms, diarrheal diseases, or dehydration. If you would like to contribute to this project, you can donate here.
NEW CHURCH BUILDINGS
It's not always possible for new believers to obtain or construct places of worship. But there are often open doors and opportunitites. If you want to help us construct a simple brick structure for new churches, you can donate here.
AMBUCYCLES
Because seconds count, GGN is working with United Hatzalah to establish the Ambucycle Unit to expedite the arrival of medics to emergency incidents. The use of ambucycles for first response has proven to be a critical link in the emergency chain of survival, allowing rescue personnel immediate access to the scene or home of a patient. The response time of an ambucycle medic averages 90 seconds due to the ability to avoid traffic congestion, road closures, debris, and parking issues. We can purchase a fully, medically equipped ambucycle for $23,000. Click here to watch Israeli Channel 10 News coverage on the Ambucycle Unit.

WOMEN'S HYGIENE PROJECT
Our vision is to raise the dignity and self-esteem of women in India by providing proper hygiene education and therebyhelp girls and wome live healthier and easier lives. This should result in the decline of reproductive tract infections and improve women's health of future generations. If you would like to support the women and girls in this way, you can donate here.