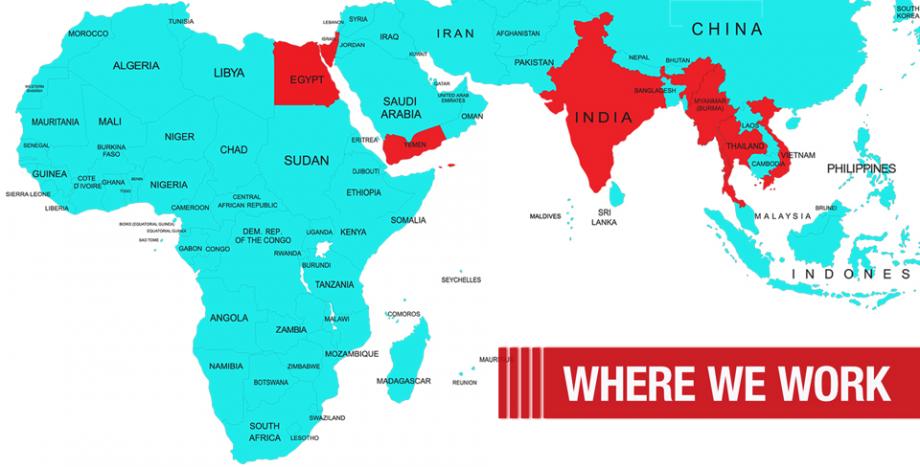 GGN's focus is on reaching the unreached or unengaged people groups of the 10/40 Window. As a result, our work is in a wide variety of geographical areas. The 10/40 Window is located from 10 degrees south to 40 degrees north of the equator. There are 69 nations across northern Africa, the Middle East and Central Asia in the 10/40 Window. Nearly 4 billion people live here, including 90 percent of the world's poorest of the poor. It is estimated that 1.6 billion of these people have never had the chance to hear the Gospel of Jesus Christ - not even once! The seat of every major non-Christian religion - Islam, Buddhism, Hinduism, Animism, Atheism, and Sikhism - is headquartered in the 10/40 Window. Two-thirds of the world's population (4 billion) live in the 68 nations of the 10/40 Window.

North Africa is shifting like the sands of the Sahara. Terrorism, poverty and corrupt governments have created a volatile and dangerous environment for millions of people and families. GGN has managed to circumvent these geo-political difficulties by working with local missions and ministries using creative skill through medical and construction teams, designing and developing clean water systems, supporting missional bookstores and training leaders. The challenges are real, but we are networking to make life better in North Africa.

India is one of the most fascinating nations on earth. And so are its people. GGN serves alongside Native Missionary Movement in India's largest state, Rajasthan. The arid, mountainous climate and landscape is the perfect setting for mission stations, sending medical teams and drilling fresh water wells. GGN networks with a Bible college in Northern India that trains pastors to start new churches among indigenous people groups in remote locations. GGN's medical teams have served the villagers in the area and have drilled over 20 water wells with plans for many more. These are the primary ways we are making life better.

GGN stands with Israel in a variety of humanitarian efforts:
Bible study on site
Community feeding projects
Helping Jewish families immigrate back to Israel - the Hebrew word is Aliyah
Sponsoring and supporting reconciliation efforts between Jews and Arabs and between the Anabaptist nation and Israel
Working with and supporting The Jerusalem Hills, providing a safe, loving home for high risk, vulnerable children
Donating backpacks filled with school supplies for children
Educational lecture tours in the USA
Supporting United Hatzalah
Blessing widows and orphans

When people think of Southeast Asia, they may think of the immense cities of Bangkok, Saigon, Phnom Penh, or Jakarta. But this area south of China is home to millions of rural poor. Dozens of indigenous hill tribes live in the remote mountainous regions of Southeast Asia. GGN reaches these hill tribes by sending medical teams, building homes for children, and helping with agriculture development and construction projects.